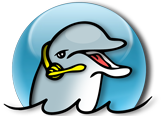 Dolphin Power Seller
Takes the Pain Out of Calling!
Make 2 to 4 times more calls a day compared to hand dialing!
No Delays No Hello...HELLO? No Dropped Calls
Speak to people live or if you reach an answering machine or voice mail,
you'll have several options for leaving personalized messages.

Choose your Price per Seat:
$119 per month

Pay month to month


$1,142.40 per year

Pay yearly, save 20%

Includes truly unlimited Outbound and Inbound calls
on unlimited lines to anywhere in the US & Canada.
No telephone lines required. Display any 10 digit Caller ID you wish.
Agents can be located virtually anywhere in the world.
More Sales in Less Time!
Work Smarter not Longer!
Get your Free Trial Today!

For a
$10 discount
off the first month,
use Coupon Code:
Queen